Welcome to June Massage (Previously Foot Envy)!
We provide high quality foot massage, full body massage and chair massage with certified massage therapists. We can also provide massage to your party and your business! Now we can also host party at our store, contact us for more details!
Our store address:
4500 El Camino Real Ste 3
Los Altos, CA, 94022
(650) 948-1888
map
Walk ins or
Appointment
Open 10am-10pm 7days
Click here to see pictures of our massage site.
Do I Need a Massage?
You likely need massage therapy if the following situations apply to you:
Sitting at a desk or computer for too long
Doing labor work or sports
Suffering from muscle pain
Feeling stressed or depressed
Having sleep disorder or digestion issues
Many people don't realize they need massage therapy until back and neck pain begins to bother them. The healthy muscle is flexible and soft. When the muscle does not get enough blood circulation or is under constant stress, the muscle gets stiff. When it gets worse, pain will occur more frequently. A professional massage therapist can identify and treat your muscle's problem with massage therapy. For people who work long hours at the office, massage therapy is recommended to relax the neck and back.
Which Service Should I Choose?
For people with minor back and neck stiffness, or for those who want relax after a long day of work, our Foot Massage is the best value. Our Foot Massage includes 15 to 20 minutes of back and neck massage. If the back and neck pain is more acute, we recommend regularly scheduled Body Massages.
Directions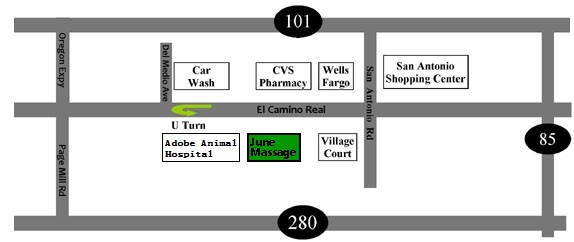 Gift Card Sale!
A perfect gift for birthdays, Valentine's day, Mother's day, Father's day and other special events.
| | |
| --- | --- |
| 1 hr Foot Massage gift card | $30 |
| 1 hr Body Massage gift card | $55 |
Purchase in store or order by email. Email your order to footenvy4500 @ gmail.com.
Paypal, Credit Card
Yes, we accept paypal, credit cards (MC, VISA, DISCOVER), personal checks and cash!
Today's Tip
It is not difficult to do basic foot massage for your family and friends. See the youtube video below. Please note, it is strongly recommended to have a professional massage with a trained massage therapist for optimal results.
Massage Therapist
Do you know that all employees we hire are massage therapists? They are certified either by the California Massage Therapy Council or the National Certification Board for Therapeutic Massage & Bodywork. They also meet the city requirements for education and health.
There are other places which offer "massage therapy," but make sure you work with a certified massage therapist!